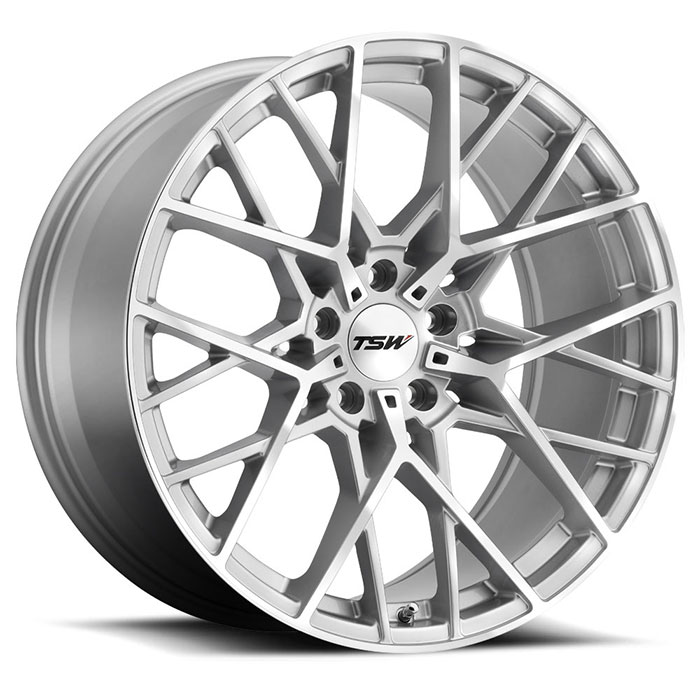 The Sebring custom aftermarket alloy builds a new dynamic trend featuring a wheel behind a wheel look. Previously non-manufacturable, TSW had to work closely with engineers for months until every corner of the Sebring was at just the right angle to be casted into metal without sacrificing aesthetic qualities. Two split five spoke designs overlap combining into a three dimensional mesh pattern. Each spoke is angled just enough to create sharp edges posturizing a truly refined look on the custom wheel. The Sebring is available in sizes from 17×8 up to 20×10 finished in Titanium Silver and Matte Black.
17×8
18×8.5
18×9.5
19×8.5
19×9.5
20×8.5
20×10

5×100
5×108
5×112
5×114.3
5×115
5×120

The Bathurst wheel from TSW is the latest in our line of wheels that employ exotic rotary forging® manufacturing technology. Rotary forging® produces wheels that are uncommonly lightweight. That's because the manufacturing process alters the molecular structure of the aluminum alloy in a way that increases its strength. That strength allows TSW engineers to reduce the thickness of the outer barrel, reducing rotational mass. Even the largest Bathurst size, 20×10.5, weighs less than 25 lbs.
Just as innovative as its manufacturing process is the Bathurst's design, a brilliant starburst of ten ultra narrow beveled spokes that is as visually light as its actual weight. The Bathurst is stunning, executed in silver with a mirror cut face or a spectacular gloss gunmeta In a nod to TSW's racing heritage, the new wheel is named for the Bathurst 1000kM race, regarded as the pinnacle of Australian motorsports.
The Bathurst is available in multiple widths in diameters including 17,18, 19 and 20 inches. Multiple widths make possible a staggered fitment, which involves rear wheels slightly wider than front wheels. Staggered fitments combine the visual appeal of a more aggressive stance with added traction under cornering and acceleration achieved through mounting wider tires.
17×8
17×9
18×8
18×8.5
18×9
18×9.5
18×10.5
19×8
19×8.5
19×9
19×9.5
19×10.5
20×8.5
20×9
20×9.5
20×10
20×10.5
20×11
21×9
21×10
21×10.5
21×11

5×100
5×108
5×112
5×114.3
5×115
5×120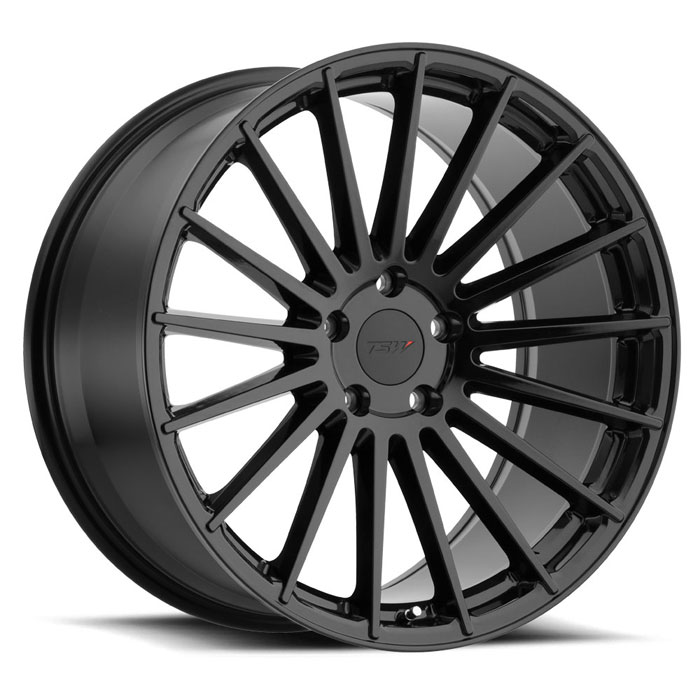 The TSW Luco, named after the second corner in the famous Circuit of Mugello, is a new model wheel that sports a race-inspired design. This custom alloy wheel is highlighted by 17 sharp spokes radiating from the hub with a neatly finished clean center that looks right at home with today's contemporary and sporty cars. Standard finishes are Gloss Black and our eye catching Matte Black with Machine Face and Dark Tint.
17×8
18×8.5
18×9.5
19×8.5
19×9.5
20×8.5
20×10

5×108
5×112
5×114.3
5×120

The Nurburgring custom alloy wheel, named after the Nurburgring circuit known as \"the Ring\" by enthusiasts, is located in Nurburg, Germany. It was the main venue for the German Grand Prix as part of the F1 World Championship in the 50&s through early 70&s. Built in 1920, this 22 km track was widely known as being one of the toughest and most dangerous tracks in the world. It was nicknamed \"the green hell\" by Jacki Stewart. In 1961, Phil Hill raced the fastest lap here at under 9 minutes in the Ferrari 156 F1 car and Niki Lauda later became the only person to lap the full circuit in under 7 minutes. The new Nurburgring Grand Prix Track, called GP-Strecke was completed in 1984 and has hosted several Grand Prix events. *Pictured wheel shown is not representative of all size configurations. Center profile and lip depth will change in relation to vehicle specific fitment.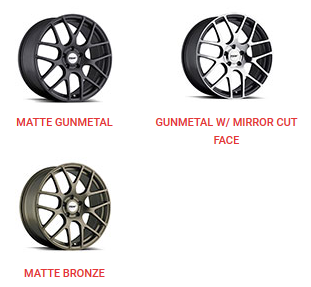 17×7.5
17×8
17×9
18×8
18×8.5
18×9
18×9.5
18×10.5
19×8
19×8.5
19×9
19×9.5
19×10.5
20×8.5

20×9
20×9.5
20×10
20×10.5
21×9
21×10
21×10.5
21×11
22×9.0
22×10
22×10.5
22×11

5×100
5×105
5×108
5×112
5×114.3
5×115
5×120
5×120.65
5×130