PAINT CORRECTION SERVICES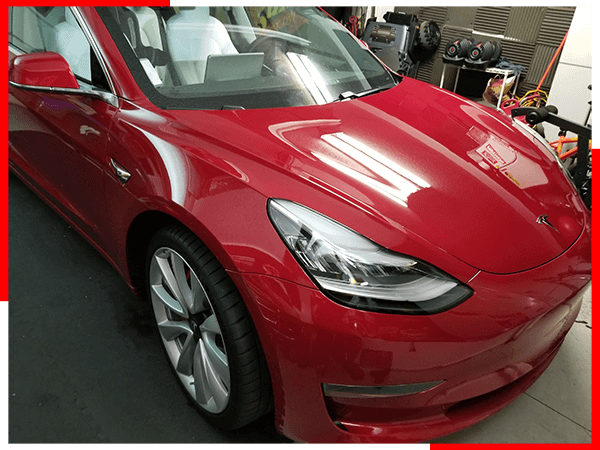 Paint Correction Services
in NYC
Is your car's paint looking dull, hazy, or generally scuffed? Did that pigeon leave a mess that ended up scratching your paintjob? Good news, we've added paint correction to our list of offered services! Our trained mechanics will professionally rehab your car's coat of paint back to looking brand new. Often the most labor-intensive and time-consuming part of the detailing process, our paint correction services are sure to match or beat the heavy premiums offered by other local body shops.
We are here to guide you through the choices, just call or text (646) 450-7290
What is
Paint Correction?
Paint correction is a phrase used by car enthusiasts and professionals alike to describe the restoring and rejuvenation of a car's coat of paint. Surface imperfections such as oxidization, scuffs, dulling, hazing, and more are reduced and rejuvenated through this process. These imperfections can include swirl marks, scratches by bird-droppings, and acid rain etching. Although products are sold to help owners remedy these issues on their own, sometimes having a professional do the job is necessary. Some jobs are too daunting or overwhelming for busy people who don't have the time to work on their car. That's where we come in.
How is
Paint Correction

is Done?
First, in order to ensure the polishers do not damage the paint with any debris, a thorough wash and decontamination must be done to the exterior of the car. For the correction to classify as a paint correction, a small amount of paint or clear coat is then stripped from the car with an abrasive and then clayed. Claying the paintwork helps keep a smooth, level surface during polishing. Finally, a multistage polishing comprising of different-graded polishes are used to help level out and buff the paint. We use a paint depth gauge to ensure that only an acceptable amount of paint is stripped back before being polished.
Why Choose NYC Wheel Pros for Car Care Needs?
As car enthusiasts, our professional mechanics work on each customer's car as if it were their own vehicle. This helps us ensure our customers leave the shop with a vehicle that only shows true reflections under direct sunlight, not scratches and swirl marks. Our true paint correction is sure to last longer than all-in-one polishes you can buy at the store which will wash away and reveal blemishes once again.
At NYC Wheel Professionals, our goal is to serve the members of each borough of New York. This means we offer free estimates in a timely fashion. To receive a free estimate, fill out our form to book an appointment, or call us at (646) 450-7290.
For a Free Estimate on how we can help bring your wheels back to their original glory call or text (646) 450-7290 Check out our Facebook page NYCWheelPros and share your experience with friends.